Ms Anne Anderson, Irish Ambassador to the United States, presenting my art, at the opening the Goal Ball exhibition, Paris 2009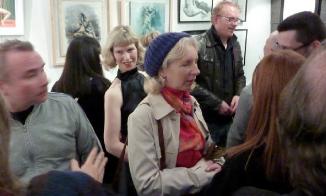 Exhibiton of drawings, United Arts Club, Dublin. Ireland.
Ms Anne Anderson, at the opening of my solo show in the Irish Embassy, Paris.
Ms Anderson is now Irish Ambassador to the United States.
June 2016:
Exhibition of Plein Air paintings in the Phionex Gallery, Chelsea NY. USA.
Plein air Painting and Drawing
Vernissage, December 2009. The Greenlane Gallery,
ile Saint Louis, Paris, France. Tom J. Byrne, Mr Paul Kavanagh Irish ambassador to France, & first lady, Rosemary Kavanagh. 2010 Paris, France.